Apr 15 2019
Today we had a little incident with a firewall in Gamora which caused the world to disconnect and block all connection for a few moments. The issue was resolved and Gamora is now back online.
Mar 31 2019
Today the time was changed from winter to summer time. (time moved forward 1 hour), which means server-saves will be happening 1 hour earlier from now on (10:00 CEST instead of 10:00 CET).
Feb 20 2019
All 10 spots of tutors have been filled and Tutor exam requirement has been set back from 27/30 to 30/30 to pass the test!
Feb 20 2019
MasterCores is in need of tutors ASAP, therefor the score to pass the tutor exam has been lowered from 30/30 to 27/30 and all previous test have been removed, the allowance of 3 invalid answers will remain until MasterCores has reached 10 tutors, after that the requirement is set back to full 30/30 score.

Feb 18 2019
Character Transfers has now been opened in NON-PVP worlds.

Leaving Rookgaard
When you have reached level 8 and are leaving for mainland your Equipment might be upgraded depending on which items you already have.
Helmet, Armor, Legs and Boots will be upgraded/added even if you don't have any of these.
Shield will only be upgraded if you're wearing a shield and if it's weaker than the upgrade.
Weapons are also only upgraded if you are wearing one and it's weaker than the upgrade.
For RPG aspect the upgrade is not the best available in Rookgaard, but still better than the beginner set given when you start playing.
The weapon upgrade will be based on which weapon you're currently having, if you have an axe, your upgrade will be an axe.
Same for sword, and club, but you'll only get an upgrade if your current weapon is weaker than the upgraded one.
Your equipment could look like this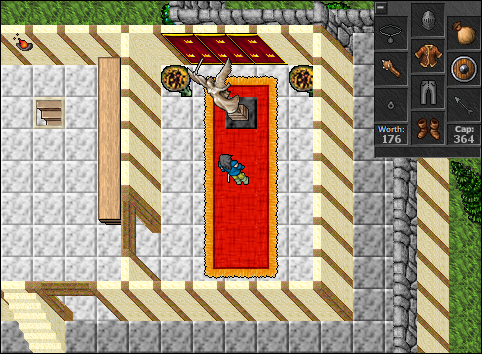 And end up becoming this