Oct 04 2019
It's less than an hour left for Irida to come online and character creations of Irida has opened!
Sep 20 2019
MasterCores are in need of active tutors for the new world, which is why we now have lowered the delay between each exam to 12 hours, and the correct answer score to 25/30.
Tutor exam will continue with these settings until Sunday.
Aug 10 2019
Character world transfers of Hirana has been opened!
Aug 03 2019
Due to an issue with the update an additional save was necessary to correct mistakes, due to the additional downtime everyone have been compensated with 2 days of golden accounts which has already been added to everyones accounts.
Jun 24 2019
Due to an update-mistake today at 10:00 CEST the game had to go offline for 2 minutes to correct the faulty update. All accounts have been compensated with 1 day of golden account.

Leaving Rookgaard
When you have reached level 8 and are leaving for mainland your Equipment might be upgraded depending on which items you already have.
Helmet, Armor, Legs and Boots will be upgraded/added even if you don't have any of these.
Shield will only be upgraded if you're wearing a shield and if it's weaker than the upgrade.
Weapons are also only upgraded if you are wearing one and it's weaker than the upgrade.
For RPG aspect the upgrade is not the best available in Rookgaard, but still better than the beginner set given when you start playing.
The weapon upgrade will be based on which weapon you're currently having, if you have an axe, your upgrade will be an axe.
Same for sword, and club, but you'll only get an upgrade if your current weapon is weaker than the upgraded one.
Your equipment could look like this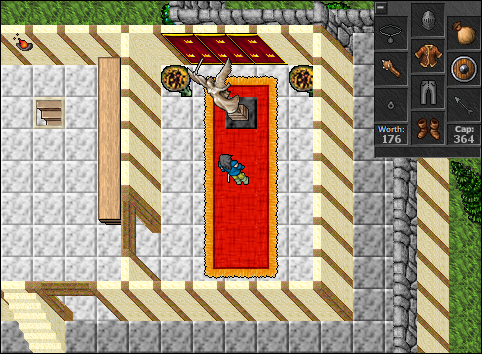 And end up becoming this