Dec 06 2018
We are aware of the recent connection issues to the Brazilian world Demera. We have already ordered a dedicated from another company that will be tested out before the end of the week. The amount of problems caused in the current Brazilian host is not acceptable.
Dec 05 2018
Rules of MasterCores have been updated!
you may want to take a look so you wont accidentally break one and get punished for it!
Rules that has been modified:
1d, 2c, 2g
.
Rules that have been added:
3e, 3f
.
Dec 01 2018
The internet cable that goes undersea between Australia and Asia have been damaged which was the reason for the many issued Canera had few days ago. The traffic to Australia was rerouted until the cable has been repaired.
Nov 26 2018
We have confirmed connection issues to Canera (Australian world), we are in contact with the hosting company to get this resolved ASAP.
The downtime since server-save is caused by slow transfers for updated game files which is required for the world to be able to be functional with some internal updates.
Nov 24 2018
We will NEVER reset any of the worlds! If you hear rumors saying otherwise go ahead and tell them they're dead wrong!

Leaving Rookgaard
When you have reached level 8 and are leaving for mainland your Equipment might be upgraded depending on which items you already have.
Helmet, Armor, Legs and Boots will be upgraded/added even if you don't have any of these.
Shield will only be upgraded if you're wearing a shield and if it's weaker than the upgrade.
Weapons are also only upgraded if you are wearing one and it's weaker than the upgrade.
For RPG aspect the upgrade is not the best available in Rookgaard, but still better than the beginner set given when you start playing.
The weapon upgrade will be based on which weapon you're currently having, if you have an axe, your upgrade will be an axe.
Same for sword, and club, but you'll only get an upgrade if your current weapon is weaker than the upgraded one.
Your equipment could look like this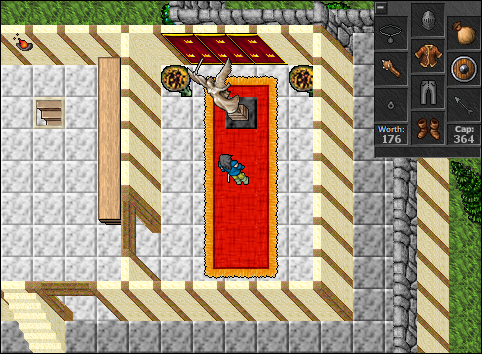 And end up becoming this