A game by
Core-Series

May 07 2020
An issue that caused website not to update itself in certain places was fixed today.
May 03 2020
Today we released client version 1.50 with focus on loot/task message customization. if you're using windows client it will automatically download the update, if you use Wine or Linux client you will need to
download
the update manually.
Mar 16 2020
The new worlds will launch a week earlier due to COVID-19 crisis to help out people stuck at their homes relax and having fun.
Mar 02 2020
Hirana have been merged into Benera and Irida have been merged into Azera.
Feb 18 2020
Beware, Somewhere in March, we're going to need to shut down entire MasterCores for a couple of days for extended maintenance work and upgrading the whole game, website and client to be as smooth, strong and protected as RetroCores.com is!
Other than that, there's not any changes in the game as how to play it, rates or anything about it, the update is ONLY about smoothness, stability and defenses against attacks.

Leaving Rookgaard
When you have reached level 8 and are leaving for mainland your Equipment might be upgraded depending on which items you already have.
Helmet, Armor, Legs and Boots will be upgraded/added even if you don't have any of these.
Shield will only be upgraded if you're wearing a shield and if it's weaker than the upgrade.
Weapons are also only upgraded if you are wearing one and it's weaker than the upgrade.
For RPG aspect the upgrade is not the best available in Rookgaard, but still better than the beginner set given when you start playing.
The weapon upgrade will be based on which weapon you're currently having, if you have an axe, your upgrade will be an axe.
Same for sword, and club, but you'll only get an upgrade if your current weapon is weaker than the upgraded one.
Your equipment could look like this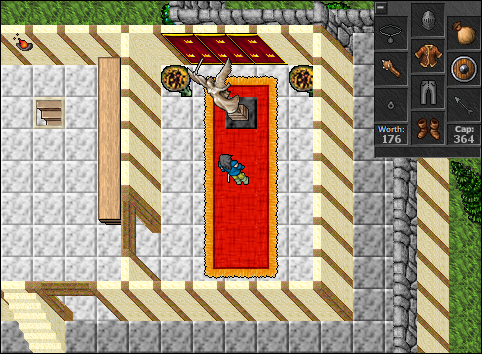 And end up becoming this