Feb 18 2019
Character Transfers has now been opened in NON-PVP worlds.
Feb 01 2019
Canera is now back online after an issue at the hosting company that caused the dedicated not to reply to anything.
Dec 31 2018
Happy new year everyone! We hope that you'll have a good time and look forward to 2019!
Dec 26 2018
Testera is now back online and working as intended.
Dec 24 2018
Merry Christmas everyone! we hope you have a lovely Christmas!

Leaving Rookgaard
When you have reached level 8 and are leaving for mainland your Equipment might be upgraded depending on which items you already have.
Helmet, Armor, Legs and Boots will be upgraded/added even if you don't have any of these.
Shield will only be upgraded if you're wearing a shield and if it's weaker than the upgrade.
Weapons are also only upgraded if you are wearing one and it's weaker than the upgrade.
For RPG aspect the upgrade is not the best available in Rookgaard, but still better than the beginner set given when you start playing.
The weapon upgrade will be based on which weapon you're currently having, if you have an axe, your upgrade will be an axe.
Same for sword, and club, but you'll only get an upgrade if your current weapon is weaker than the upgraded one.
Your equipment could look like this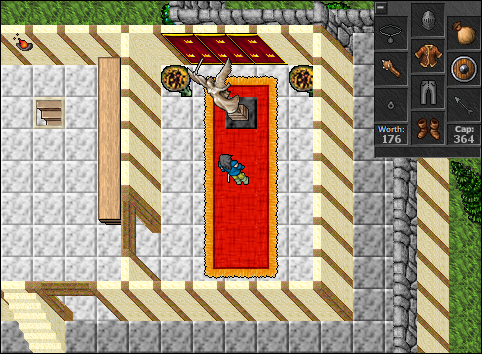 And end up becoming this